Just back from Venice Biennale 2017 opening. It continues until November.
La Serenissima, as Venice is known, is a beautiful, magical place, which has slightly lost its way. No longer a vibrant trading post, it is now more a museum piece and tourist spot. It also has some of the worst and most expensive pizzas and pasta in Italy. And more pizza then anyone could possibly want and very few decent restaurants that can cook anything well. Of course there are some, but you have to search for them and we were there for the art!
The Biennale is huge, with a large garden area (the Giardini) with pavilions from countries around the world as well as a large mixed show in one Central Pavilion, and a huge show, curated by Christine Macel, 'Viva Art Viva' on the next door site (the Arsenale) as well as other sites around town.
It is usual/pseudo-cool to say 'not as good as the last venice biennale', but in fact, I thought it was! But then I think being cool can sometimes turn nasty. The German Pavilion  also thought that with 'cool' performers in a sort of indifferent haze, a dystopian  world. A very brave piece of performance work by Anne Imhof called 'Faust'.
Anne Imhof- Faust
The British Pavillion however, really rocked it for me. Phyllida Barlow's Folly played on the word Folly, which turns up as bits of falling down 'ancient' monuments in the grounds of stately homes as well as folly, being the stupid things we do. It had decay, recycling and play all in one. In spite of it all there was joy. Brilliant.
Phyllida Barlow- Folly
In the Arsenale, Lee Ming Wei's Mending Project, which is quite an old piece, set a wonderful tone. It looked great and had a relational interaction to it.
Also in the Arsanale was my old favourite David Madella. Going back in time to the 70s he ran 'Exploding Galaxy' on Parliament Hill in London on Sunday afternoons. If anyone has documentary photos of this he would love to have them.
David Madella- A stitch in time
Another stand out pavilion was from Taiwan with the artist Tehching Hsieh. Again, it was piece from his youth of endurance and also of commitment to art. It had been shown at the Fruit Market in Glasgow, but I had not seen it there. It was wonderful. He wrote a contract to himself that he would clock in every hour for a year. There are photos and a time lapse film of it as well as the object with which he clocked in. It said everything you need to say about work and capitalism in one incredible event.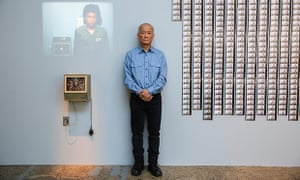 Tehching Hsieh- One year performance
Many people were praising the Welsh pavilion. It was a film inspired by finding photos of a German man who had been in a concentration camp for being gay. On his release he started tattooing and piercing himself and taking photos of it. He looked like a normal bloke (actually, he looked like how you imagine an old Nazi) when dressed, but had the most 'altered' genitals I have ever seen when undressed. Not for the faint -hearted. The photos were intercut with a very slick film, which I found very old fashioned and all of which left me cold. But if you are thinking of tattooing yourself or piercing your genitals, this may change your mind.
At our favourite off site spot, Fondazione Querini Stampalia,  where last time they had Jimmy Durham, this time they had Hadassah Goldvitch 'The House of Life'. In fact, running among the tombstones as recounted in the tale here prepared me for the Phyllida Barlow piece, where you are reduced to child-like proportions running between elephant legs.
Hadassah Goldvitch 'The House of Life'.
Many life enhancing moments and time to be amazed by the many creative outputs. Who knew humans could be so wonderful?